Custom Application Software Development Services for your business.
Evia is a Mumbai, India based leading Custom Software Development Company, providing businesses to transform their routine processes and operations into specific goal oriented software system. Unlike pre-packaged software applications, our custom software programming services have the significant ability to execute exactly the way you want it to. Since every business has diverse needs, it is very difficult for one software to accommodate multiple needs at the same time.
---
What We Do?
We Build New Custom Software
We design & build new custom software application which explicitly suits your business process & Operations.
We Support & Maintain
After we deliver, we support your team to make effective use of the software and help you enhance productivity & efficiency; take regular backups and changes.
We Improve Existing Software
We will extend the life of your existing system by improving performance,making enhancements,fixing bugs & help you focus on your business.
---
How We Do It?
Throughout a decade of association with various industries, Evia has developed deep domain knowledge. We present business solutions that satisfy our client's need much more than any pre-packaged software. Having delivered multiple software application development projects, we are specialised in:


Background Verification (Order & workflow automation for India's leading background screening & verification company with multiple offices across India)
Hospitality (Material Management & POS for a food chain with multiple outlets across India)
Retail (Order Distribution Software application for a Phoenix based Distributor catering to all of the United States)
Customer Support (Automating device tracking customer support system for a Canadian based mobile distribution company)
Financial (Custom CRM software application for a Canadian based Investment company)
Digitizing Services (Order routing from multiple touch points & automate workflow application for a leading Digitizing Company with presence in India, UK & USA)
Our Approach (Personalised for Each Customer)

Our Development Process

Our Quality Process
Functional Quality

Functional quality means that the software correctly performs the tasks it's intended to do for its users which includes Meeting the specified requirements, minimal defects, Good enough performance & easy of use.

Structural Quality

Structural quality means that the code itself is well structured which primarily includes Code testability, Code maintainability, Code understandability and Code security.

Process Quality

The quality of the development process significantly affects the value received by users, development teams, and sponsors. The key attributes for process quality is to meet delivery date and the budget.
We Provide 100 Days Warranty Period, during which we support & resolve any software programming bugs you may come across.
---
Advantages of Custom Application Software Development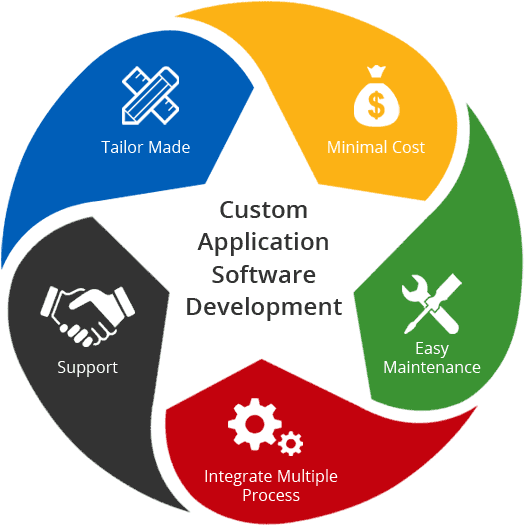 ---
See Our Results
Stop paying for of the shelf software product, demand for a custom software which explicitly suits your business process & operations.
| | |
| --- | --- |
| Customer: Digitizing Mart Pvt. Ltd. (India & UK) | |
Customer Profile:
"Digitizing Mart" is one of the largest digitizing centres in Asia. Digitizing Mart was founded in January 1993 as a digitizing services company and currently has a total staff strength of 200 people, with a capacity to handle about 250 designs a day. They mainly cater to Embroiderers and Apparel Manufacturers in USA, Canada, Australia and the United Kingdom.
Project: Custom software application to automate operations.
Result:
As a result of the successful custom software programming and collaboration between the Customer's and Evia teams an easy-to-install workflow application has been built. The system pulls the orders from multiple online websites, parses data, forwards to the production team, quality check team, and finally delivers to the customer. Various MIS reports are pulled from the system for sales analysis, performance tracking, errors & defaults, billing and more.
| | |
| --- | --- |
| Customer: N V Distribution (USA) | |
Customer Profile:
N V Distribution is a snacks & beverages distribution company catering to the major cities in the United States of America.
Project: Custom application software development.
Result:
As a result of the successful implementation of a Custom application software product, NV Distribution was able to cater to more number of distributors & their retailers across the Unites states which has increased the sales dramatically for the company. The professional software development services provided primarily covers the order being placed by the retailer, processed and delivered by the distributors and in addition, pull custom reports for analysing sales & margins, customer wise sales, product wise sales and more.
| | |
| --- | --- |
| Customer:Integrity Verification Services Pvt. Ltd. (India) | |
Customer Profile:
Integrity Verification Services Private Limited is a leading Investigative Agency specializing in Employee Background Screening, Risk Mitigation Services and Complex Fraud Investigations.
Project: Software application development.
Result:
The custom application software development services provided to Integrity has done wonders to their business; the sales for the company has gone up instantly and the entire manual process has been eliminated. The software application customised for the client, takes care of the entire process right from data entry to processing, quality checks, writing reports and delivery. Further, the software generates various reports by customer, by process teams, by different statuses of an order, by clients which has helped the client to closely monitor the deliveries, quality and employee performance.