Customize data management portal for internal and external communication using Sharepoint Application Development.
Microsoft Sharepoint Development is most convenient technology to develop software applications that fulfil many purposes and functions. Sharepoint software development has many benefits such as:
Document Sharing: Sharepoint is ideal for managing documents and documents processing.
Record Management: Easy way to maintain records of things like employee data, customers, suppliers, etc.
Automate Tasks: Automate system for tasks like project management, holiday management, order management, employee data management and more.
Reporting: Provision to create customize reports as per your requirements
Discussion Forum: Easy to way to create chat room where people can communicate to each other.
Websites: You can use web application not only to manage your business content but also to create websites for your team or individuals.
Blogging: You can create blogs where people can post articles of your business and reply.
We at Evia, a Sharepoint application Development Company based in Mumbai, India has a team of experienced Sharepoint developers, who provide customize Sharepoint software application as per your requirements. We have array of happy customers with on- time delivery, valued training and support for their Sharepoint Software Application.
---
What We Do?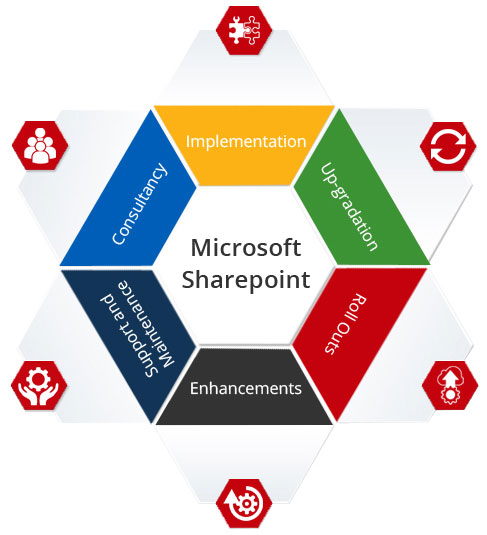 ---
Our Sharepoint Application Development Expertise:
Consulting, Strategy & Roadmap
SharePoint Custom Development
SharePoint Implementation & Systems Integration
Migration From Other Content Platforms To SharePoint
SharePoint Solution Audits
Corporate Website Development using Sharepoint
Dedicated team of Sharepoint developers
Maintenance & Support Of Existing SharePoint Applications