Dot Net Development Services enables rapid, error free application development suite to any type of business need.
.Net is the Microsoft programming language that allows rapid development of powerful web applications with benefits of .Net framework.Powered by over a decade of experience, Evia, as a Dot Net Development company, has successfully implemented Microsoft Dot Net solutions for global clients. Stay ahead of the industry with our a team of expert .NET developers, who are specialists in various industry domains. With the use of Microsoft .Net Application Development our development team has helped to create, integrate and design many .NET applications to help customers with their business application solutions.
At Evia, you can rely on our team of experienced software coders, developers, programmers work with you to understand your requirements and demonstrate the capabilities of Microsoft .NET framework and develop the system to the requirements.
---
MICROSOFT DOT NET DEVELOPMENT SERVICES: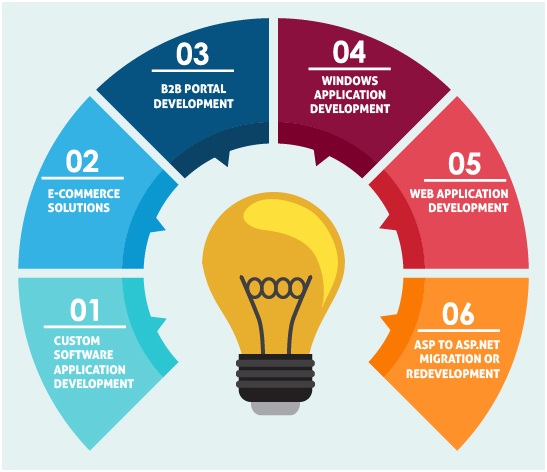 ---
WHERE OUR DOT NET EXPERTISE LIES:
Languages: C#, vb.net
Web Technologies: ASP.Net (Framework 3.5,4,4.5), ASP.Net mvc 4 with razor view engine, IIS- 7, IIS -8, IIS-10, HTML, HTML 5, VB Script, AngularJS, Java Script
Database: SQL Server 2008, SQL Server 2012, SQL Server 2014
Communication: Web Services, WCF, WPF
Development Tool: Visual Studio 2008-2015
Reporting: Crystal Report, SSRS, SSIS
---
WHY EVIA'S DOT NET DEVELOPMENT SERVICES ARE THE BEST:
Highly skilled & experienced techno-sales/BA team to understand your business requirement
Prompt and proactive approach
Flexible development model
Transparent and clear communication
Extremely talented ASP.Net Developers, Database Administrators and Technical Architects
Tested and proven quality process
On-Time project deliveries
Strong after-sales support
100 days free after-sales support
You retain full intellectual property rights and software source
Guaranteed returns on your investment