BRINGING THE RAPNET DIAMOND INVENTORY TO YOUR WEBSITE

With Evia's Magento RapNet Integration.
With RapNet being the online home for diamond trade, businesses can use their extensive information to build a custom-tailored diamond inventory to showcase and sell to customers. With Evia's Magento RapNet API Integration services, you will be able to tap into a network of close to 1.5 million diamonds, and sort them by shape, size, colour, cut, carat and other parameters in just a few clicks. Additionally, this tool allows you to choose from thousands of trusted suppliers from across the globe, set your prices and mark-ups and include your Magento shopping cart for a seamless customer experience.
---
FEATURES OF EVIA'S RAPNET DIAMOND INTEGRATION SERVICES
Automatically download data from RapNet Server
Clean up RapNet data to remove impurities like blank values, etc.
Option to filter data by country, supplier, shape, size, colour, etc
Periodical update of diamond prices from the RapNet server into your store.
---
HOW RAPNET IS INTEGRATED WITH MAGENTO: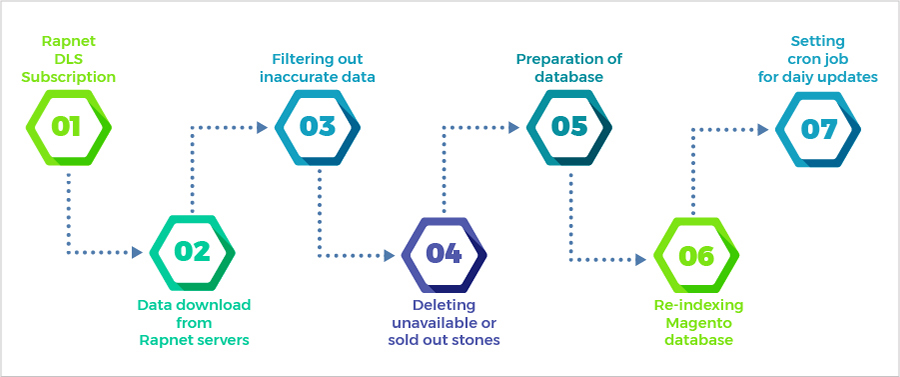 Import Data from RapNet Server: There are two ways of importing data:

Using the RapNet inventory link where you can import data from RapNet server.
Using RapNet DLS Subscription: By subscribing Rapnet DLS (Rapnet Data Listing Services) you can pull RapNet data into your Magento Inventory. With this, you get full control of RapNet integration process.

Data Download from RapNet Server: RapNet provides data in CSV format for MS Excel, .dat and .dbf formats. User can select type of diamonds they want to sell and directly download to their server.
Filtering out incorrect/unwanted data: RapNet data may contain diamonds having incomplete/invalid information like invalid shape, weight or blank values. We can add filter to remove inappropriate data and reinsert into database.
Deleting unavailable or sold out stones: We check sold out items in Rapnet Database, delete these products and keep only fresh product to sell from your magento store.
Preparation of Database: Create category, sub-category and diamond specific attributes.
Re-indexing Magento Database: On completion of step 5, we flush Magento cache and re-index its data on Magento store.
Setting cron jobs for daily updates: For regular updates we can set up a cron job on Magento store in order to keep the store updated with current Rapnet inventory.
---
CLIENT: