Ecommerce website development for Jewellery Industry using Magento
Website development for jewellers using Magento Community / Enterprise Edition
Evia is a jewellery website design company in Mumbai, India offering services for developing ecommerce website for jewellery artists using Magento. We suggest Magento platform for developing an ecommerce website for mainly two reasons. One – there are numerous advantages of using Magento for ecommerce website development for jewellery stores and two – We are the experts!
Why Magento for developing your ecommerce website for jewellery?
Magento offers a modular architecture that makes it flexible, scalable and easily adaptable. It is a leading platform for developing ecommerce websites for jewellery and other consumer products. More than 150,000 online retail businesses, including some of the world's leading brands have adopted Magento and trusted it due to its higher success rate. Nearly 24.8% of all ecommerce websites have been developed on Magento. Thus, you can gauge the popularity of this platform.
Why Evia to develop Magento ecommerce website for jewellery industry?
With the help of Magento, Evia provides you with the solutions and modules that help your jewellery business grow. We offer the mantra of making jewellery artists and jewellers successful online. We help you to develop multipleonline stores. If you have different jewellery lines, you can make use of multi-store concept provided by Magento for each line. We are apt in providing online shopping solutions irrespective of your business size. We make your online presence more powerful in the global marketplace.
How do we design & develop a Magento ecommerce website for jewellers?
We follow a stringent process to deliver the best solutions in developing ecommerce website for jewellery stores using Magento.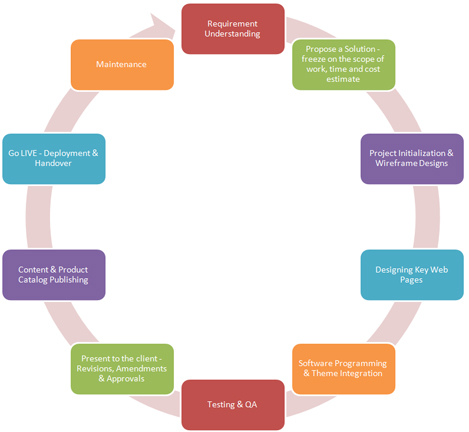 We begin with understanding clients' requirement. To do so, we send out a questionnaire that gives us a thorough insight of our client's requirements.
Based on the requirements, we propose a solution.
Further, we create a scope of work and provide the cost estimate.
Once the project is signed-off, a project manager is allotted to the project along with a team of experts. This team consists of a fleet of proficient Lead Designers, Web Developers, Sr. Software Programmers and Asst. Software Programmers. Team is assigned based on the scale of the project. PM is one-point of contact for the client throughout the development of the project.
The development process begins with designing wireframes,which we send to the client for approval.
After revisions and approvals from the client, we commence with designing the key web pages.
When the key web pages are revised and approved by the client, we begin with the theme conversion or skinning and parallel goes the software programming customization.
Once this is done, we do a beta testing and QA by adding sample products.
At this stage, the website with sample products is presented to the client for review.
When our client provides a 'go-ahead' for the website, we begin with building a product catalogue for the website.
This brings us to the final step of the process of website design for jewellery using Magento, which includes deployment on the server, testing and handover.
Hang on, we are not finished yet! Our process is not limited to developing the website. We also take care of maintenance and SEO of the website. This helps you update your website on a regular basis and SEO helps you bring your search engine ratings higher.