Ecommerce website development for Jewellery Industry using OpenCart
OpenCart website development for jewellery Industry
If you are looking to design an ecommerce website for jewellery store using open source frameworks such as Open Cart, then you have landed at the right place. Evia is Mumbai, India based website design company, Expert in developing ecommerce website for jewellery stores using OpenCart.
We offer an end-to-end solution for OpenCart website designing for the jewellry industry with the help of custom module development, OpenCart Extensions, template designs, customization and installation.
Why OpenCart for developing your ecommerce website for jewellery?
There are a number of advantages involved with the use of OpenCart for designing an ecommerce website. With the help of Open Cart, you can have a quick and easy-to-manage online store for your jewellery industry. We often suggest developing ecommerce website for jewellery artists using Open Cart platform; because it's lightweight and easy-to-understand. Other basic features of OpenCart are as follows:
Since it is an open source platform, you don't have to pay registration and licensing fees
You can have various categories within the website
You can add large number of products
It supports multiple currencies
Website can be created in multiple languages
You can add product reviews which draw larger audience to your websites
You can generate product ratings which users find very useful
You can have a website designed that has various features, is easy to use, visually appealing as well as has search engine friendly interface.
All these features can grow your business rapidly and without much effort.
Why Evia to develop OpenCart ecommerce website for jewellery industry?
Evia holds a fleet of experts of OpenCart developers. We provide you the end-to-end solution for OpenCart development and its integration. We will make your ecommerce website for jewellery attractive, scalable (you can add more products), easy-to-navigate (for your customers) and easy-to-manage (for you).The OpenCart extensions development process involves a certain amount of expertise, and you can rely on us completely for this part. While designing the theme for your website, our creative designers take care of every tiny detail and follow your suggestions strictly.
Our services are not limited to designing and development of the ecommerce website, but we also offer Search Engine Optimization for your website. The SEO experts from Evia's task force help you bring your website's Search Engine rankings higher.
Thus, you can have best of both worlds when you experience the amalgamation of the services and online shopping solutions offered by Evia and the OpenCart framework.
How do we design OpenCart ecommerce website for jewellers?
We follow a stringent process to deliver the best solutions in developing ecommerce website for jewellery stores using OpenCart.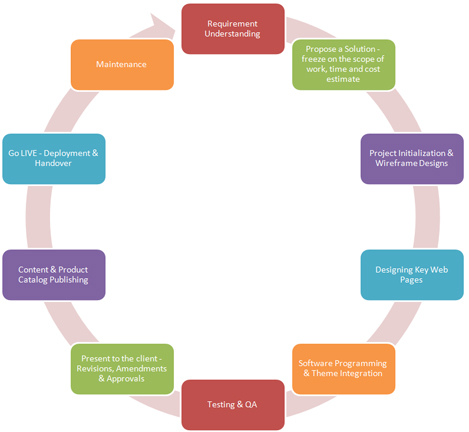 We begin with understanding clients' requirement. To do so, we send out a questionnaire that gives us a thorough insight of our client's requirements.
Based on the requirements, we propose a solution.
Further, we create a scope of work and provide the cost estimate.
Once the project is signed-off, a project manager is allotted to the project along with a team of experts. This team consists of a fleet of proficient Lead Designers, Web Developers, Sr. Software Programmers and Asst. Software Programmers. Team is assigned based on the scale of the project. PM is one-point of contact for the client throughout the development of the project.
The development process begins with designing wireframes, which we send to the client for approval.
After revisions and approvals from the client, we commence with designing the key web pages.
When the key web pages are revised and approved by the client, we begin with the theme conversion or skinning and parallel goes the software programming customization.
Once this is done, we do a beta testing and QA by adding sample products.
At this stage, the website with sample products is presented to the client for review.
When our client provides a 'go-ahead' for the website, we begin with building a product catalogue for the website.
This brings us to the final step of the process of website design for jewellery using OpenCart, which includes deployment on the server, testing and handover.
Hang on, we are not finished yet! Our process is not limited to developing the website. We also take care of maintenance and SEO of the website. This helps you update your website on a regular basis and SEO helps you bring your search engine ratings higher. Experiences